About 18 years ago, give or take a few, my husband forbade me to keep any more house plants.
My Mom always had plants. Lots of plants. She could make anything grow.
From the bushy Ficus tree in the living room, to the split leaf philadendron draped over the curtain rod in the dining room, she just had a way with green, growing things. She had hoyas and African violets, miniature roses, and of course plenty of annuals in the spring and summer.
I always liked having plants, and she let me keep a plant in my room for a few years. Or maybe that was different plants, one at a time, OVER several years. Let's not quibble over the details.
Mom loved plants. So do I.
Unlike my Mom, I do not have a green thumb. I kill houseplants.
Or almost kill them. Under my care, most plants get this sad, neglected, I probably need water and repotting look to them, like underfed alley cats and just as ratty looking. Silk plants are the only ones I've been allowed to keep for any period of time. I have a Silk Ficus Tree
 in the hall. I also have these. They are silk too, and only 3″ tall. Silk plants don't die and they don't attract those tiny flies.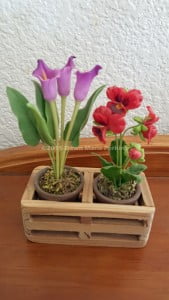 When our youngest daughter turned 16, my husband bought her a potted Phalaenopsis orchid for her birthday.
She dutifully read the instructions included in the pot, which outlined how it needed have an ice cube added to the pot weekly for watering.
It didn't sound right at the time, but she followed the instructions and gave her orchid an ice cube a week. It didn't take too long before the blossoms of her plant began to fall. Ah well, they don't bloom forever. We continued to put an ice cube in the pot each week, and gradually she forgot about her plant.
A kid who loses interest in something, leaving it for Mom to deal with? Shocking, I know.
I noticed the leaves were looking pretty shriveled, and it seemed to be a succulent type, where the leaves actually fill with water. I knew it was against the instructions, but my gut said 'Water this plant!', so I did. I let the water run back out of the little clear plastic pot right away, noting also that the thing was completely pot bound.
In the morning, the leaves appeared healthy and full again. Interesting.
Growing up I'd heard Mom say that orchids are really delicate and hard to care for. She never had them, so I couldn't speak from experience–hers or my own. I decided to find an expert on the matter, and so, naturally, I turned to the internet. I watched a video on how to repot orchids, and to trim off the bad roots. Once I did that and had it in an appropriate pot, it thrived.
Five years later, my orchid is still healthy.
Yes, my orchid. My daughter lost it by default when I repotted it and brought it back to health.
It usually sends up 2 bloom spikes per year, and several new leaves prior to each bloom cycle. This is the only house plant I haven't managed to kill. I think I'm going to get a couple more.