Recently I spent a few weeks searching for a good method to allow subscribers to my blogs.
What I was looking for was something eye-catching but not obnoxious. No full-screen annoying popups here, please. I can't stand them, and I figure that if I have such an aversion to them that I will simply leave a site when the popups start, my readers may feel the same way.
I needed it to integrate with Mailchimp, which is the service that I use to send out my RSS feed posts to email subscribers. I didn't want to have to hire someone to do a techie version of a raindance in my back end code just to make it work.
It just needs to WORK.
In addition to being functional, on my homeschool site I also offer a free ebook to subscribers, for Washington residents. This ebook isn't something that would interest non-resident homeschoolers, so not everyone will want it. The complication comes in when the form I was using allowed them to request it (or not) but then I had to check my  Mailchimp account every day to see if I needed to send the ebook to someone.
What a pain.
So in my ideal perfect world, my subscription widget/plugin/thing would also allow them to download the ebook without a hassle.
Enter ManyContacts.
When you first clicked over to this post, a blue bar dropped down from the top of the site, just enough to show you a form to fill in to Subscribe to Email Updates. Simple, in the least obnoxious way possible. ManyContacts free contact bar just works.
The ManyContacts bar has customizable colors.
You can make it match your site or stand out, which ever you prefer. While a reader is there, the bar stays in view until he or she either fills in the form, or clicks the arrow at the right hand side to hide it.
ManyContacts also offers GREAT analytics.
You can have each new contact submission send a notification to you by email, or not. In the email, you can see what post or page your visitor was on when they filled out the form, how they arrived on your site to begin with, where they're from, and often even what their social media profiles are.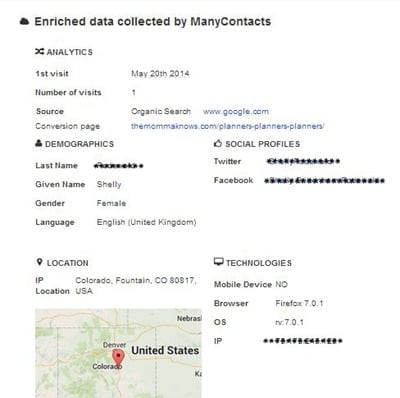 Whether or not you choose to enable email notifications, you have access to all of your subscriber analytics through your account in the ManyContacts dashboard. This is valuable information if you need to know your audience demographics. It enables you to turn readers into customers.
And finally, Many Contacts allows you to upload a link to a file.
When your reader enters her email and clicks Submit, the link is automatically displayed, for an instant subscriber download. No expensive autoresponder needed.
You get all of this, and Many Contacts is also FREE.