I originally wrote this post for the Inland NW Christian Writers Conference blog 2 years ago. They are shutting down, and sent my posts back to me. It is geared for authors, but definitely applies to bloggers too!
Gone are the days of writing a book for nameless, faceless readers.
If you were lucky, you might meet a handful of them at a book signing. The connections were brief, and most conversations blended one into another. Anonymous.
Readers today are becoming less anonymous, as are writers. The Internet has opened up a world of interaction between writers and readers. The new term is Engagement.
Are you engaged with your readers? Do you know them, and do they know you? I'm not talking about in the sense of having them over for coffee (although that's been done). What I am talking about is dialogue through social media.
Twitter is one of the Big Three in the social media world, and it can serve a vital purpose for you as a writer. Twitter can provide you with access to your readers, and they to you. This interaction can help you sell your books before you have even finished writing them. Twitter can be used in many ways.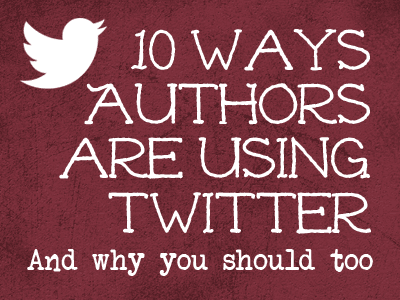 1. Offer a sneak peek at your new book or sample of your product.
God's pattern for our lives can lead us somewhere unexpected. Pattern for Romance free peek http://t.co/ivKsKitH5f #quiltsoflove

— Angie Breidenbach (@AngBreidenbach) August 22, 2013
Angela Breidenbach gives readers a taste of what she has coming out, causing them to eagerly await it's release.
2. Auto-Tweet from your Facebook page.
Barry Lyga offered a prequel story about one of his characters for readers who "Like" his Facebook page. This dual purpose serves him very well. He made this offer to his over 5000 followers. Promotions like this are "re-tweeted" (passed on) and bring in new readers as well as new followers for him on Twitter and Facebook.
Sunday a.m. Tweeps! LIKE my new Facebook page to read "Neutral Mask," the #ihuntkillers prequel story about Connie! http://t.co/W9kFsAGQWs

— Barry Lyga (@barrylyga) August 25, 2013
3. Give them a glimpse into your life.
You are more than the contents of your books. Even a quip about the weather makes James Rubart's personality shine through. He does have a good sense of humor!
Unbeatable. This time of the year when the sun shines, Seattle's the most gorgeous spot on earth. (Yeah, I know there are 11 other months.)

— James L. Rubart (@jameslrubart) August 4, 2013
4. Ask for input from your readers.
Ted Dekker uses this VERY effectively and often, even asking for character flaws to include, or scene ideas. He engages with his readers on an almost daily basis. He also has over 19,000 Twitter followers. He auto-tweets from his Facebook page to Twitter.
I need your opinion! The print edition of Eyes Wide Open is set to release early! The question is, what do… http://t.co/iTKajEDU

— Ted Dekker (@TedDekker) January 28, 2013
Barry Lyga wants to know his readers' opinions on introductory excerpts. Have you ever asked your readers how they feel about something in regards to your books?
How long is sensible for an introductory excerpt to a novel? Ten percent? Twenty? What say you, readers?

— Barry Lyga (@barrylyga) August 23, 2013
5. Offer a fun observation from life.
It makes you human. It also gives an open door for responses and interaction with your readers.
How come on cop shows when they go to arrest rich people at their homes, the rich guy always has on a tie? Who hangs out at home in a tie?

— Meg Cabot (@megcabot) July 29, 2013
6. Quote from someone else's post and share a link to it.
When you share a thought-provoking quote, you not only draw people to the link that you're sharing. You are also giving them insight into what interests you and makes you tick. They get to know you through the things that you promote and quote to them. Also, offering links to others makes them inclined to promote and link to you.
"…wax nostalgic with me for a minute about A Common Reader…like some kind of marvelous literary mix tape" http://t.co/muab7fs9Pw

— Melissa Wiley (@melissawiley) August 24, 2013
7. Share something cool that's related to your book (or product).
Ted's book, Eyes Wide Open, is about how what we see isn't always true and what we believe effects what we see. He shares an optical illusion "just for fun".
Eyes that look are common, eyes that see are rare indeed. Here's a cool optical illusion just for fun. Stare… http://t.co/h85Mm7Q0

— Ted Dekker (@TedDekker) February 12, 2013
8. Promote something you wrote on a website besides your own.
When you do a guest post for someone, naturally they will promote the post, but so can you. Your promotion + their promotion = extraordinary reach. The further the reach, the more followers, and ultimately more readers.
Post today (by me) on Novel Rocket about giving up … uh … about NOT giving up: http://t.co/rr7z8b3J

— James L. Rubart (@jameslrubart) January 31, 2012
9. Announce when your book or product is released.
Share your excitement and others are likely to retweet your announcement too. Retweets= More promotion for your book.
Today's the day! >> The Prairie Thief in Paperback — Here in the Bonny Glen http://t.co/KgPxagmDWU

— Melissa Wiley (@melissawiley) August 21, 2013
10. Quote and hashtag yourself.
This has to be the most creative thing I have seen an author do. Meg created her own hashtag, #megcabotsays and with it she tweets compelling quotes from her books. She draws people in, one quote after another. She uses this consistently and very effectively. Meg is the author of The Princess Diaries among others, and has over 190,000 Twitter followers.
"You're kind of a geek … You want to be my new best friend?" #megcabotsays http://t.co/v3Q2gREldS pic.twitter.com/hmQgWzukmM

— Meg Cabot (@megcabot) August 24, 2013
Twitter is an excellent place to begin to engage with your readers.
You may use it for reader involvement, input, and promotion. You can spend as little time per day on it as you like, but the time you do invest can reap rewards if you use it consistently. To get started, sign up for a Twitter account, and then follow me!