Blogging and hobbies. They sound like a contradiction in terms, don't they? If you've blogged for more than a couple of years, you know what I mean.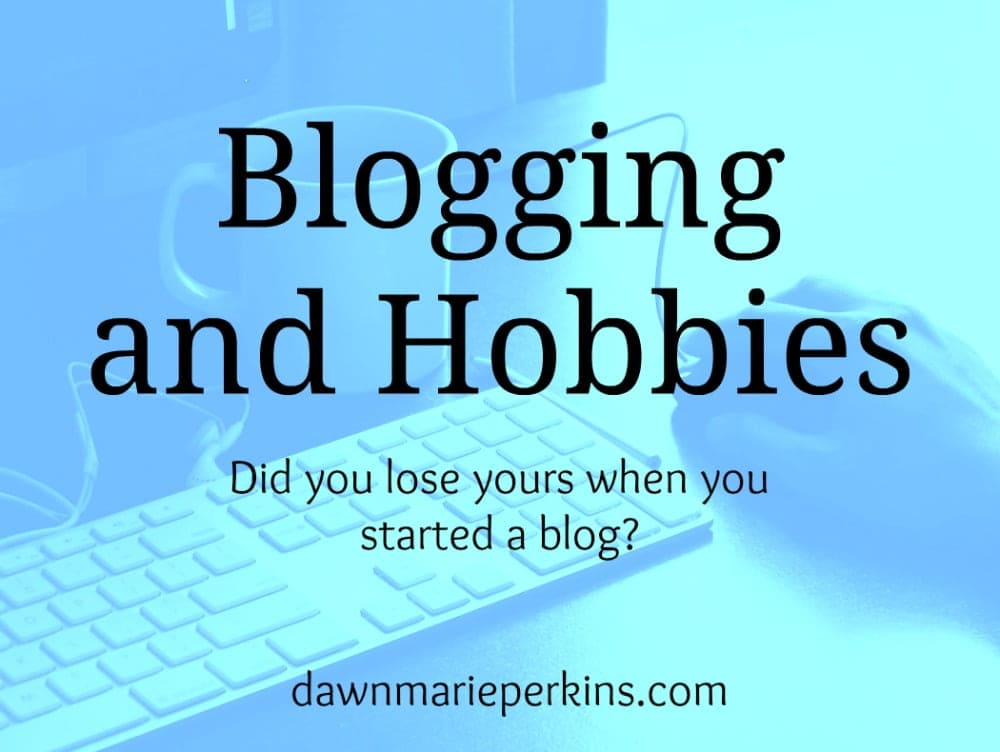 After 10 years of blogging… TEN YEARS of blogging… it sounds almost hypocritical to me to have a hobby. Why is that? Many people get started blogging because of their hobbies. Crafters and artists, cooks and photographers all showcase their talents on newly-minted domains that are their blogs.
The hobbies lead to the blogging.
My urge to blog spawned from my desire to write, coupled with my drive to help and support other homeschoolers. At the time though, I also had quite a few hobbies that I wrote about, too.
I like to call myself a Jill of All Trades (but master of none.) I have always enjoyed a lot of different hobbies, from reading, sewing and cross stitch to photography and scrapbooking. Gradually, as my blogging increased and my blog community began to form, I drew more enjoyment from that and push aside the other hobbies.
As a result, I am a blogger with no hobbies. It makes me feel as if I have missed something… valuable.
I wrote frequently for several years, late into the nights. I had a drive to become a professional blogger. I saw myself quitting my part time CNA job so I could stay home and do what I loved, and just blog away. In case no one ever told you, this is no easy feat, and I never quite got there.
What I got was tired.
I felt stressed out, constantly trying to maintain a posting schedule, join memes and link ups with other bloggers. I went to conferences that would help me become more business minded in my blogging. I took online workshops, joined blogger's groups and a mastermind group, and more. I made my homeschool blog successful (in my mind), but the "bigger" it became, the harder it was for me to stay motivated. It now financially pays for my blogging related expenses, from hosting, to things like my PicMonkey premium account and my ticket to the 2 to 1 Conference this fall.
This hobby now costs me nothing out of pocket. Time cost is another matter.
I have a friend named Michelle who has taken her insane writing talent, combined it with her amazing photography and painting abilities, and invested them into her blog. Neither her writing nor her art come across as put on. Both are a part of her, and her blog showcases Michelle at her core, as a creative, deeply thinking and feeling woman. I do not see my blogs this way, but rather as compartmentalized, almost separated from my passions.
This should not be.
I realized that I do not want to be a "professional" blogger. I started this blog using my name because I wanted to be myself. My goal was to allow this blog to become "mine" as I gradually grow out of the homeschooling/parenting/family season of life. I'm not there yet, but it is coming! I still write on my homeschool blog frequently. I feel pigeonholed there at times though, as if I can't break out of that niche to write what's on my mind or in my heart.
How many times have you been driving along and heard a blurb on the radio that evokes a strong opinion, or makes you suddenly have a lot to say on the subject? Do you jot notes quickly into a notebook, or on your phone? Do you voice it all to your spouse and then let it go? Or do you write a blog post later on?
I've always been one to either speak my mind at the time, or think about it… but not long enough for it to cement in my brain and remind me later to write on it. Still worse though, I would compose posts in my head and then never get them into print. I forgot all about them.
This blog is my outlet. It is my brain dump: My anything-goes, creative, rants and random thoughts on life and things going on around me. Many of you probably subscribed here because of my 31 Days to Earning with Amazon series, or because you follow tech and blogging topics. Those are still on my radar, but this is my notice to you that things are changing here just a little bit.
You'll see more from me here, and not always about tech. You may also see posts about faith, life, snarky things, and things in the media such as my post on Skills for Life. You'll also see that I am allowing myself to become rounded again, picking up a new hobby so that my creativity flows into passions.
I'm kind of excited about that.
Blogging shouldn't take away from what you enjoy about your life. You can blog and still have the hobbies that spark your creative passions!
Tell me, do you have a hobby?