She was ready to go out the window.
She was crying and yelling at me and had climbed up on the window sill, fully intending to exit that way. It was at ground level, but still, I could not let her go out that window.
I felt so horrible. Both girls were hysterical. I was crying, and my daughter was vacillating between yelling at me and sobbing. I thought about my husband upstairs, apologized to them again, and begged S not to leave like this.
"I can't believe I trusted you guys! You were like my parents! I trusted you and now you won't even let me stay with my best friend?!" She screamed it, sobbing, pushed past me in the doorway and stormed out of the house.
It was the last time I saw her for almost three years.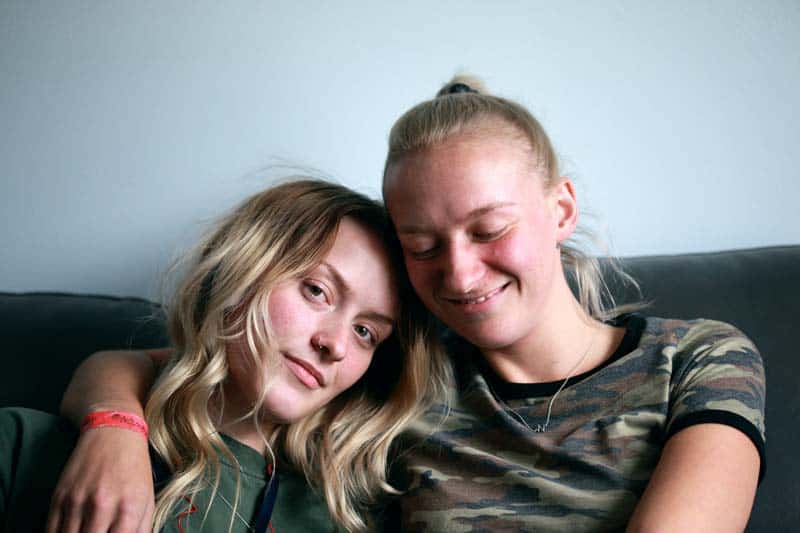 S was 18 and our daughter was 17. They'd been best friends for years. She had come out to us as gay a few months prior. We had told her that we loved her and would support her. I meant it. My husband was completely undone. Then she outed my daughter as bisexual — against her will —  just a few weeks before this incident. She had come over that afternoon, planning to stay the night like she had 100 times before when late in the evening it occurred to my husband that if she was a guy, we'd never allow it, and now that both girls had come out as gay or bisexual, that put their relationship into "that context" even though they were not romantically involved and S was seeing someone. They were best friends. Jumping to any other conclusion was wrong.
So wrong. He didn't want her to stay over and he wanted me to be the one to tell them. I didn't want to, but I did it. In his mind, she had "turned our daughter gay." I was an obedient wife and I went downstairs and explained to the girls that since they had come out as gay, we could no longer allow them to have sleepovers. Oh, how wrong it felt to do that! But I did it. And I succeeded in hurting not only my daughter but her very best friend, one we considered "one of our girls" and loved so much.
When your entire worldview is seen through the distorted lens of the evangelical Christian church and purity culture, you don't think about the consequences. When you know that you're right and they are wrong, it doesn't matter who you hurt if you are doing it "in love".
I have so many regrets.
A few years later, our daughter was married (to a man) and came home with her then 1-year old to have his first birthday party at the house. Her friend came. I was SO happy to see her. I gave her a hug and told her I was so thankful she was there. She brought her wife with her, and I said hello and welcomed her too. My husband could hardly look at them. All I knew is that she was there and I was happy to see her even though I knew I could never un-say everything that had been said and I couldn't unbreak the heart I broke.
The brainwashing had been so complete that it made my sense of love and loyalty and family take second place to "loving correction". It was all bullshit. I HURT HER SO BADLY.
I teared up when this image came across on Instagram. NOW I understand where the closet analogy came from. LGBTQ+ people don't hide in closets. They don't put themselves in closets. SOCIETY INSISTS ON IT. People — particularly of the Christian sects — build the closets because they make us uncomfortable. We don't want to see, don't want to know. We want to pretend that everyone is like us and no one is "that sinful." But we were wrong.
We have no business putting anyone in anything.
Love is love. Family is family, whether by blood or by heart. It's time to burn down the fucking closets.
Hi! If you're new here or haven't been here in a long time and you're wondering WHAT in the world is going on with me, I'll tell you. In a nutshell, I've been going through a massive mind-shift since 2013. To see how I'm processing all of it, check out my posts that are tagged 'exvangelical'. I'll get you started with the first one I wrote back in 2015, Losing Church.