I watched a pastor this morning, his Facebook video broadcast for all the world to see on the morning news.
It was a very sad display of angry ranting. His claim is that Starbucks hates Christmas, so they got rid of their holiday/winter themed cups this year, instead opting for a plain red one.
He also claims he "pranked them" by telling the barista his name is "Merry Christmas", so that they would write that on his cup. OH so clever. Or dumb. Obviously he thinks the baristas at Starbucks are missing a few key pieces of grey matter as well.
Never mind the fact that most Starbucks employees are college students. I'm sure they were impressed.
So many things have been going through my mind this morning and my own rant has been written and re-written, in answer to this man who has nothing better to do than cause controversy and discord. Discord is spoken of in the Bible, many times. It is something God hates. It benefits no one.
My hope is built on nothing less than…

Red cups and steaming frothed goodness…
No, wait, that is NOT how the song goes. My hope and my faith are not based on the design of a cup during the holidays. My faith is based on Christ. My holiday spirit comes from Him, not from my local coffee shop.
Starbucks' business is based on providing a service– coffee– and earning capital for that service. They were never in the ministry, although many youth pastors, youth ministry interns, and part time pastors actually do work as Starbucks baristas.
My son is a Starbucks barista. Even he thinks the whole thing is ridiculous. He pointed out that the cups are RED because of Christmas. "And we sell CHRISTMAS BLEND coffee beans! I mean, how anti-Christmas could Starbucks get?" Yes, they also have a Holiday Blend, for the non-Christmas Blend folks which even comes in K-Cups.
Why are we as Christians so quick to rush to defend a non-cause?
The red cups at the coffee shop have no eternal value, people do. They are not missionaries or ministers of the gospel. We are.
The people holding the cups, no matter what the color, are responsible for representing Christ at Christmas.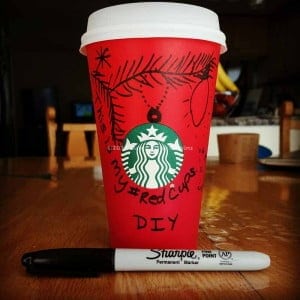 New here or it's been a while since you've been here? Yes, things have changed. I've changed. If you're new and you relate, I'd love it if you'd pop your email address in the form below so you will receive new posts as soon as I publish them! I am currently walking through deconstruction and deconversion from Evangelical Christianity, and it is touching every area of my life. If you're looking for support in your own deconstruction, I found the #exvangelical hashtag online to be the first lifeline and step in the right direction. You can also just read my posts on about my Faith Deconstruction.